Aquago
›
Online Shop
›
Palintest-palintest-pooltest-9-photometer-kit-bluetooth-ts-5495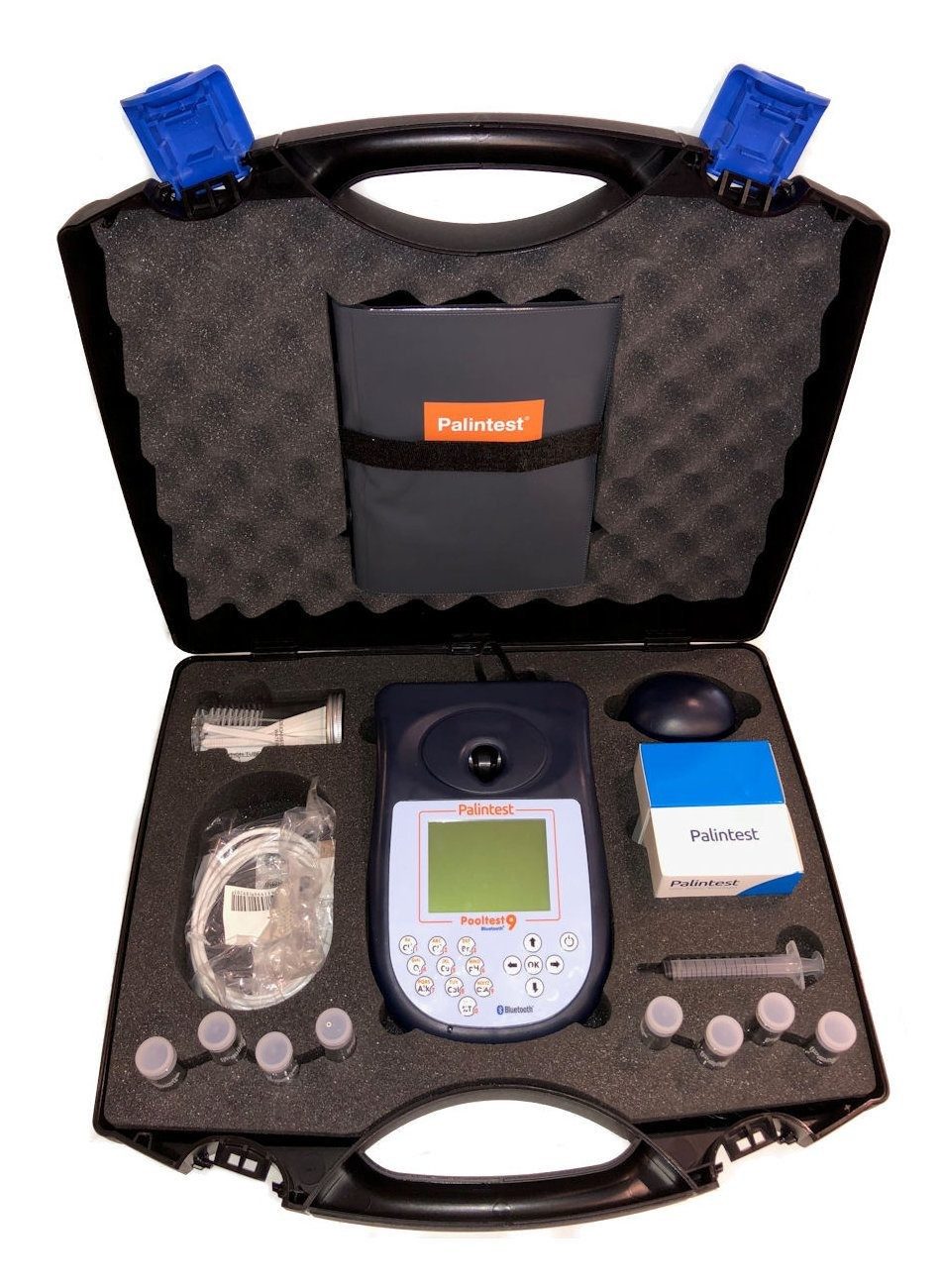 Palintest Pooltest 9 Photometer Kit-Bluetooth
$0.00
NZD


Approx $0.00

USD

Product Code: TS 5495
| | | |
| --- | --- | --- |
| Product Specification | | |
| Installation Instructions | | |
Description:
Pooltest 9 Photometer
The Pooltest 9 allows for the analysis of the nine most important water quality tests associated with the management of swimming pools and spas.
The instrument can be supplied in a choice of portable or benchtop kits making it convenient for a variety of facilities:
Single-key direct access to all parameters
Battery or mains powered and completely waterproof
On-board data log, downloadable via Bluetooth SMART or USB and share with colleagues and customers via the Aqua Pal app.
Typical Users:
Pool Service Vans
Schools & Colleges
Gymnasiums & Health Club
Aquatic Centres
Dual light source colorimeter offering direct-reading of pre‑programmed test calibrations and transmittance.
320 x 240 pixel LCD with backlight and contrast adjustment for all light conditions
On-screen prompts available in English, French, Spanish, German, Italian, Turkish and Mandarin (Chinese).
Size: 150 x 250 x 70 mm, 975g
Power Supply: 3x 1.5V AA batteries, mains power delivered via USB port
Palintest Bluetooth SMART (4.0) profile and USB for data download, software upload
Memory Capacity: Up to 100 data sets. Each data set includes date, time, sample ID, operator ID, method number, method name, result, units

TESTS...
Alkalinity Total (Alkaphot) 10 - 500 (CaC03)
Cyanuric Acid 2 - 200
Bromine 0.04 - 10.0
Calcium Hardness (Calcicol) 5 - 500 (CaC03)
Free Chlorine (DPD 1) 0.01 - 5.0
Total Chlorine (DPD 1 & 3) 0.01 - 5.0
Free Chlorine - DPD 1 (Extended Range) 0.01 - 10.0
Free & Total Chlorine - DPD 1 & 3 (Extended Range) 0.01 - 10.0
Copper (Coppercol) (free, combined, and total) 0.03 - 5.0
Iron LR 0.01 - 1.0
Ozone 0.01 - 2.0
pH (phenol red) 6.8 - 8.4
ORDER AS: TS 5495