Aquago
›
Online Shop
›
Palintest-palintest-photometer-7100-kit-ts-5405a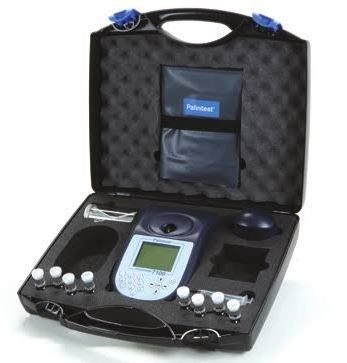 Palintest Photometer 7100 Kit
$0.00
NZD


Approx $0.00

USD

Product Code: TS 5405A
| | | |
| --- | --- | --- |
| Product Specification | | |
| Installation Instructions | | |
Description:
The Photometer 7100 is fully integrated with the Palintest system of water analysis. It offers a great value instrumental analysis for an extensive range of water tests.
The Photometer 7100 accurately assesses the colour formed in the test sample and displays the readings directly in concentration units on its large LCD screen – no more inaccurate results due to variation in operator eyesight or lighting conditions.
features :
7100 wide range of Palintest tests available
Portable
Rugged in design
Fully waterproof
Ideal for on-site testing in any application
Special features :
Unique adaptive cell holder automatically adjusts to the tube size
Accommodates any size vial with no adapter needed
Instrument interface comes with 5 languages built in
Large easy to read backlit display with easy to navigate menu
The Photometer 7100 is part of the successful and versatile Palintest water test system.
Supplied in a carrying case designed to carry the instrument, and your choice of reagents to provide a complete all-in-one on-site analysis kit. Includes 6 x Test Tubes
TEST TABLETS are NOT Supplied. Please Order the Test Tablets you require separately depending on the Test Parameters that you want to test for.
Order As:
TS 5405A Palintest Photometer 7100 Standard Kit in Hard ABS Case (PT740)
If you require Extra Test Tubes, please
TS 5410 Palintest Replacement Glass Test Tubes & Caps, Pack of 5 (PT595/5)